This article was originally published at Laboratory and Production Magazine №5 2020 (14) in Russian language.
Author: Shakhnovich I.V.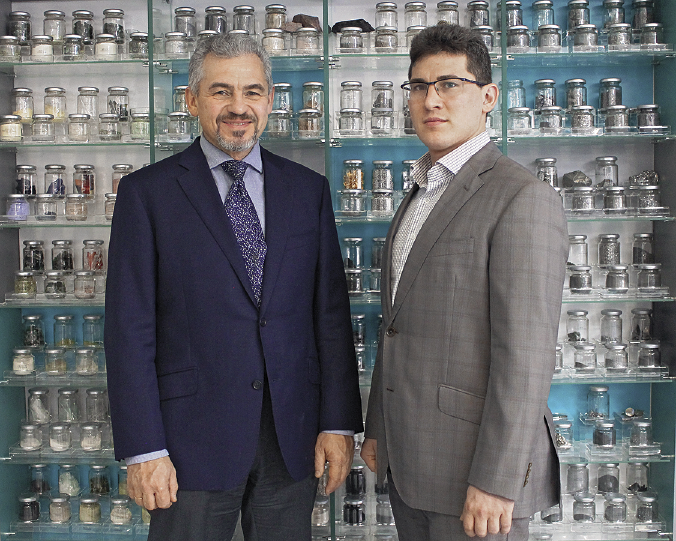 Director of VIBROTECHNIK LLC Dmitry Krivelev and deputy director Mikhail Krivelev
LLC «VIBROTECHNIK» has been developing and manufacturing laboratory equipment for grinding and sieving for more than 28 years. One of the key features that allows the company to constantly increase both sales volumes and the range of products is a unique by world standards ratio of price and functionality. At the same time, the quality of products remains very high, as evidenced by a number of prestigious awards: «One hundred best products», «Exporter of the year», «Made in St. Petersburg», etc. Two years ago, the company began to focus on promoting its products to foreign markets, and also significantly changed its appearance. What are the first results of the new strategy? What products have added to the company's portfolio? How is it possible to achieve high quality in the conditions of domestic production at objectively low prices? In search of answers, we visited the VIBROTECHNIK company and asked its director Dmitry Markovich Krivelev and his deputy, Mikhail Dmitrievich Krivelev, with questions.
28 YEARS OF STABLE DEVELOPMENT
One of the most successful companies operating on the Russian market for almost three decades is VIBROTECHNIK LLC. The company develops and manufactures laboratory equipment for crushing, grinding and sieving various materials. It is a highly competitive market with powerful foreign players. Nevertheless, over 28 years of operation, VIBROTECHNIK has shipped more than 315 thousand sieves and almost 11 thousand pieces of equipment. According to the company, more than 12 thousand enterprises use its products. In fact, it is much more, since about 40% of the turnover is formed by more than 500 trading partners. Sales through intermediaries in 2019 grew by 25%. The volume of products is constantly increasing, and in November 2019 the enterprise carried out a technical re-equipment: the machine park was updated, new employees of working specialties were attracted — as a result, production capabilities increased significantly.
The most important competitive advantage of the company's products is a low price with very good functionality. Yes, without minor additional options and fashionable electronic controls. But many times cheaper. It is this deliberate strategy that makes VIBROTECHNIK products so popular. Including in foreign markets — today the company supplies equipment to more than 40 countries around the world.
What are the main reasons for such a stable success? Let's try to figure it out.
PHILOSOPHY
The work of the VIBROTECHNIK company is based on three basic principles: competence, responsibility, quality. Any piece of equipment must meet market requirements. In difficult, non-standard cases or with the slightest doubt about the right choice, tests are necessarily carried out with the client's material. Each customer receives not just a sample preparation device, but a competent and effective solution to their technological problems.
An important aspect of quality assurance is qualified personnel. A significant part of the employees have been working at the enterprise for 5 to 15 years, some specialists have been working since its foundation.
Own production is the basis of the company's strategy
OWN PRODUCTION AS A QUALITY MANAGEMENT TOOL
Having its own production facilities, VIBROTECHNIK strives for independence in everything. Of course, this approach creates problems. Supporting many different technologies is costly, often does not correspond to the main profile of the company, does not allow for proper loading of equipment, and therefore entails additional costs and negatively affects the cost of production. Actually, this is a global problem for all Russian manufacturers of high-tech products. Indeed, in order to abandon even a part of production operations, the region needs a well-developed industrial infrastructure focused on contract activities. Alas, Russia still cannot boast of such a thing.
The company has a quality management system. Every detail is checked by quality control inspectors at all stages of production. It is noteworthy that even at the stage of development, considerable attention is paid to facilitating the control of parts and assemblies. The design documentation must be agreed with the quality control department specialists: are there the necessary tools, are the control elements available, is there any need for additional equipment — templates, calibers, etc.? All requirements for surface treatment, weld seams, painting, etc. are fixed in the internal standard of the enterprise. All procedures are regulated, their implementation is strictly controlled — a substandard product will inevitably end up in a marriage isolator.
«For prototypes and non-standard devices, as well as in the first year of production of all products, we practice continuous acceptance by the technical department. These specialists look at the machine from the point of view of its application. Knowing the purpose of the installation, they can, for example, check the uniformity of the gap between the discs, backlash, smoothness of adjustment, etc. If they do not like something, they record the comments and return the product for revision, «comments D. Krivelev.
| | |
| --- | --- |
| | |
| Interoperation checks by QCD inspectors are the most important component of quality | Acceptance of products by specialists of the technical department |
PRODUCTS
VIBROTECHNIK equipment provides a full cycle of crushing, grinding and dispersion of samples. In addition, the company supplies auxiliary equipment: sample dividers and cutters, mixers, vibrating feeders, vibrating tables, sample containers, special scoops, support stands, etc. This approach largely allows the principle of «one window» to be implemented — the consumer can immediately purchase everything necessary for the implementation of sample preparation processes.
A distinctive feature of VIBROTECHNIK equipment is its reliability. For the customer, this is an economic category that means lower cost of ownership. The principle of the company: the equipment should not require repair at least during the warranty period, with the exception of routine maintenance. For example, at «Percarbonat» JSC some of the company's vibration drives have been in operation since 2000. A jaw crusher JC 10 has been operating at «Orgpolymersintez» since 1994 — without repair, only with regular maintenance and scheduled replacement of working bodies.
About a third of VIBROTECHNIK's products are crushing machines: jaw, roller, hammer and cone crushers. These devices in terms of functionality, reliability and operational safety correspond to the world level, and often even surpass it. So, the jaw crusher JC 15 allows loading samples with the size of the initial material up to 110 mm and crushing them up to 1 mm in one pass. Most competitors declare a maximum of 2 mm for similar equipment.
After crushing, the sample must be grinded to the analytical size. Until recently, the company's equipment provided a particle size of up to 70 microns, now this limit has dropped to 1 micron.
The company's showcase is sieving equipment. At every third Russian enterprise where sieving is required, VIBROTECHNIK sieves are used. The company has recently mastered a new standard size of sieves with a frame diameter of 400 mm (model S 40/70), which is also unique for the Russian market. It expanded the range of sieves with a diameter of 120, 200, 300 and 500 mm. The production of test sieves meet the requirements of the standards ISO 3310-1, ISO 3310-2 has begun. In September 2019, VIBROTECHNIK sieves were included in the State Register of Measuring Instruments. As a screening element, a stainless steel mesh with mesh sizes from 20 microns to 10 mm or perforated cloth with round and square holes from 1 to 125 mm is used. The production of sieves with oblong holes has been mastered for the food industry.
DESIGN
In the realities of the modern market, it is not enough to produce functional equipment — it must be ergonomic and attractive. Realizing the importance of the modern appearance of equipment, since 2017 the company has been introducing a new concept of industrial design. According to the director, the transition to a new design turned out to be a large-scale and expensive undertaking: «It's not only about developing a new look for equipment, which is not cheap in itself, we invited outside professional designers. Shaped surfaces, molded parts reduce manufacturability. It was necessary to revise almost all design and technological documentation, to prepare from four to fifteen sets of technological equipment for each of dozens of products. New production equipment was also required. The machine park was seriously modernized.
NEW PRODUCTS
Another prerequisite for success is the continuous expansion of the product line. VIBROTECHNIK follows this rule unswervingly. In 2020, the company presented a range of both completely new and significantly upgraded devices.
A completely unique installation was launched into production — a vibrating grinder VGE. It allows grinding samples weighing 1 kg down to 71 microns. These are the requirements for sample preparation in a standard analysis for gold content. But grinding samples of large mass and achieving a particle size of tens of microns are not very compatible tasks. Therefore, until recently, such equipment was produced only by German and Australian firms. D. Krivelev: «Our VGE grinder was extremely difficult to develop. It did not lend itself to calculation, the solution had to be found empirically. Today, VGE has been serially mastered, on its basis we have already begun to build a line of products. And together with various types of crushers, we can now offer a complete set of sample preparation equipment for the gold mining industry and for the mining industry in general.»
| | |
| --- | --- |
| | |
| Laboratory test sieves | Vibrating grinder VGE |
Another fundamentally new solution for VIBROTECHNIK is the PBM 1–4 planetary mill. It grinds samples with an initial grain size of up to 3 mm to the level of 1 micron and is equipped with four bowls made of 41Cr4 tool steel with a sample loading volume of up to 45 cm3 each. A built-in electronic timer is provided for automatic control of the grinding time.
«The history of the appearance of this product is completely uncharacteristic for our company, — comments Dmitry Krivelev. — In St. Petersburg there is a wonderful engineer and businessman Vladimir Kochnev. He is worldwide known as a developer of planetary mills, from the smallest laboratory mills to continuous flow-type mills, which are used for ore concentration, including of gold ore. Kochnev's solutions work all over the world — right up to Latin America and Africa. They are registred in US, Canada, Australia, South Africa, Chile, Brazil and other countries. We have been cooperating for about 25 years. We have repeatedly discussed the possibility of producing at our facilities, but something did not work out. Finally, it came to a real project — a laboratory planetary mill under the VIBROTECHNIK trademark.
A number of VIBROTECHNIK products have undergone deep modernization. One of them is the VG 3M vibrating grinder. It differs from its predecessor VG 3 by the increased amplitude of platform oscillations: earlier it was 3.5 mm, now it is 10 mm. This increased the productivity by at least five times: when VG 3 grinded the sample in 15–20 minutes, the new machine — in 3–4 minutes. In this case, at least 90% of the sample is crushed to the size of less than 20 microns.
DG 175 disk grinder has also been updated. The new model DG 175M has become more compact, almost half the size (625x375x485 mm versus 630x410x925 mm) and one and a half times lighter (83 versus 135 kg). But most importantly, it allows to set the gap between the discs even when the motor is running. Now you can influence the size of the product directly during the grinding process, without risk that the discs will jam due to thermal expansion.
Another novelty is the vibrating grinder VG 6. It was created on the basis of the VG 1 model, but it contains not one, but six bowls for small samples, from 2 to 5 g. Moreover, the bowls can be made not of steel only, but also from zirconium dioxide and tungsten carbide, if it is necessary to exclude contamination of samples with iron.
The range of riffle sample splitters has been expanded with models RSS 25, 37.5 and 50. The numbers indicate the width of the divider riffles in millimeters. Prior to that, the company produced devices with 5-, 10-, 15- and 20-mm riffles.
Two more models appeared a little over two years ago, but remain significant for the company. One of them is EVD electromagnetic sieve shaker. It is compatible with sieves up to 300 mm. Unlike shakers based on electric motors, EVD allows to adjust the amplitude from 0.1 to 2 mm in increments of 0.1 mm.
Special attention should be paid to soil grinder SG 1. Its productivity is about 40 samples per hour (for 500g samples). It is possible to grind the starting material with a grain size of 20 mm to a level of 1 mm. Free suspension of the grinding rollers ensures abrasion of dry soil samples without crushing plant inclusions and stones.
«SG 1 is a unique machine, since neither Russian nor foreign companies produce such installations.» says M. Krivelev. «Often, employees of agrophysical laboratories manually grind the soil, and not only in our country, even in Germany. It would seem that the demand is obvious. But after a year and a half of communication with various agrophysical laboratories, we realized how difficult the task is. The technical requirements for the installation are very strict, they include the volume and shape of the receiving container, shape of holes, loading and unloading height, etc. We have solved this difficult problem. Today SG 1 soil grinder is quite widely demanded, and not only by agriculture. It is widely used in the field of construction, since any construction work is preceded by soil analysis».
| | |
| --- | --- |
| | |
| Planetary ball mill PBM 1-4 | Upgraded disc grinder DG 175M |
PROMOTION
Improving the development strategy, the company is steadily expanding its marketing activities. First of all, the exhibition activity of the enterprise has grown significantly. Before the products of the company were demonstrated in Russia only. In recent years VIBROTECHNIK equipment could be seen at analytica in Munich, Analytica Lab Africa in South Africa. VIBROTECHNIK regularly conducts seminars and webinars for trading partners and end consumers. During such events, participants get acquainted with the new equipment, study its work in the testing laboratory, discuss specific technological and analytical tasks with the company's specialists.
Since 2018, the company has been actively participating in international exhibitions. The company's products at analytica 2018, Munich, Germany (left) and analytica Lab Africa 2019, Johannesburg, South Africa (right).
FOREIGN MARKETS
VIBROTECHNIK products are supplied to more than 40 countries of the world. It is no coincidence that at the end of 2016 the company took first place in the federal competition «Exporter of the Year» in the category «Dynamically developing exporter among small and medium-sized enterprises». Until recently, however, overseas sales were spontaneous.
Having embarked on targeted development of foreign markets, the company entered into a number of dealer agreements in 2019. Since July 2019, Mineral Innovative Technologies (Pty) Ltd. from South Africa has become exclusive distributor of VIBROTECHNIK brand in the countries of the southern part of the African continent. As a result, over the past year, sales in Africa have increased and continue to grow. VIBROTECHNIK equipment is used in the divisions of international corporations and the largest regional companies in the mining industry: Anglo American, Glencore, Bauba Platinum, Cataler, Rob 5 Milling, etc.
«We have supplied equipment to several African countries before, but these were rather one-time purchases. Now our interests throughout South Africa are represented by an active partner. This is a new market with a very promising flow of orders for us, — says D. Krivelev.
At the end of 2019, an agreement was signed with Best Instrument (Tianjin) to represent the VIBROTECHNIK brand in the Chinese market. Negotiations are underway for distribution in Australia, India, and a number of European countries.
«Expansion of foreign supplies is a significant assessment of quality,» notes Dmitry Krivelev. «After all, abroad we have to compete with global players. They objectively surpass us in a number of indicators. But we are not going to catch up with them in terms of the characteristics of products in which they are superior — additional functionality, electronics, pneumatic drives, etc. We deliberately develop in our market niche in order to offer equipment that is more affordable, but not inferior in terms of basic technical characteristics. The good dynamics of our sales in foreign markets indicates that our chosen strategy works there as well.»
SOCIAL RESPONSIBILITY
«By joining forces, we can make the world around us a better place!» is the motto of the company's social activity. First of all, VIBROTECHNIK is supporting vulnerable social groups — orphans, people with disabilities, older people. For example, the company actively cooperates with «Gift of Life» Charitable Foundation, which helps children with hematological cancer and other serious diseases.
D.Krivelev: «Over the 28 years of its existence, the company has achieved a lot, and this cannot but cause pride. But it would be an exaggeration to say that we have little room for improvement left. And I would like to take this opportunity to thank all our customers, and especially — those who find an opportunity to criticize our products, suggest more user-friendly solutions. Feedback from specialists working on our equipment is the key to our development.»